Admin for Charities https://www.ancadmin.net/
Hi there
My name is Amina, I am very grateful for all the things that organisations like yours do to make a difference!
This email address is being protected from spambots. You need JavaScript enabled to view it.
I wanted to introduce ANC Admin Solutions, which I believe might be relevant at some point, to you or someone you know. My team of qualified administrators and accountants offers flexible and affordable outsourced services to charities and community interest companies to free up their leadership and management staff to focus on what matters the most: their mission and strategy and helping their team perform and grow.
Tackling Inequalities by involving communities Maddock April 2022
An alternative to Levelling-up:
Tackling Inequalities by involving communities
in place-shaping, the social economy and gender equalities
Su Maddock
Read the full report here: Alternative to levelling up Maddock April 2022
L'Oréal-UNESCO For Women in Science UK & Ireland Rising Talent Awards 2022 | Applications Open
From:
The For Women in Science Team
Website: https://www.forwomeninscience.com/
Email: This email address is being protected from spambots. You need JavaScript enabled to view it. / This email address is being protected from spambots. You need JavaScript enabled to view it.
www.wes.org.uk / www.inwed.org.uk
Twitter: @wes1919 @inwed1919
Join WES
to help us support and inspire women in engineering.
Sign up for the free WES enewsletter
We are pleased to announce that applications for the 2022 L'Oréal-UNESCO For Women in Science UK & Ireland Rising Talent Programme opened on Monday 6th December. Please help spread the word.
Feminist Activists on Brexit: From the Political to the Personal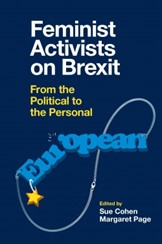 Sue Cohen
University of Bristol, UK
Margaret Page
University of the West of England, UK
https://books.emeraldinsight.com//download_pdf.php?k=9781800434219
https://books.emeraldinsight.com//download_pdf.php?k=9781800434219
12-month, salaried job and professional development programme February 2021
Do you have experience working or volunteering in a frontline-based role in your community, or have lived experience of issues affecting working-class communities? Are you keen to develop your career, getting paid whilst undertaking first-class professional development and having a say on how funding is spent? Do you consider yourself to be from a working-class community? You may like to consider applying for 2027 – but hurry, applications close at midday on 31st March 2021!
Sex Equality Legislation Research Fellow Opportunity January 2021
ContactThis email address is being protected from spambots. You need JavaScript enabled to view it. for more information.
Creating a caring economy: a call to action Report Launch 30th September 2020
Women's Budget Group today launch the report of the Commission on Gender Equal Economy.
Creating a Caring Economy Call to Action
Women's Black Lives Matter

BLACK LIVES MATTER
Four years ago the Black Lives Matters Global Organisation began to organise itself into a chapter based movement fighting for the freedom, liberation and justice of Black people in America.
The events of the past few weeks, with the senseless murder of George Floyd, and the ravaging impact of the COVID19 Coronavirus Pandemic where people from Black and Minority Ethnic (BAME) communities have been dying at four times the rate of their white counterparts within the UK, it is timely and sobering anchor point for Bristol Women's Voice to fundamentally state that BLACK LIVES MATTER.
As a Black woman of Jamaican heritage born in Britain and raised in Britain, and as the Director of this organisation I will use my platform to say that structural, systemic racial inequality is not new. It is now, with the power of video-smartphone technology, and the undeniable death rate of COVID19 that the decades of consistent, unrelenting compressions of racial inequality for BAME communities are coming to light in ways that we, all of us, can not turn away from. When you plant seeds, the harvest of that seed will grow. The seeds have been structural and systemic inequity, the harvest is disparity for people from BAME communities across every area of life:
Research outcomes from the Runnymede Trust and University of Manchester Centre of Ethnicity (CoDE), the Race Equality Foundation and IMKAAN (organisation outline how structural racial inequality continues to exist in the UK
Feminist Research Opportunity on Covid-19, by July 2020
Feminist Studies Call for Commentaries
The COVID-19 pandemic
Due date July 15, 2020
Feminist ideas can help guide us as we move through this crisis. Our journal can be a potential home for your new work that contends with the current moment and outlines the paths ahead. Our anticipated special issue on Feminism and Capitalism (2021, vol 47:1) would be an especially good venue for scholarly or activist commentaries on feminist responses to the COVID-19 pandemic. We welcome 1500-3000-word pieces from locations around the globe that take up the implications of this pandemic for feminism analyses of capitalism. Our original call for papers on feminism and capitalism highlighted our interest in the crises of care and social reproduction, on non-material labor and work, risk and debt, bioeconomies, and on the Anthropocene and environmental destruction. Work along these angles would be an especially good fit.
Due date for commentaries: July 15, 2020. Please send it to This email address is being protected from spambots. You need JavaScript enabled to view it..
Call for action from women's organisations
Tackle the devastating impact of Coronavirus on women and girls in the UK
Find the Call for Action here.
Top 50 women engineers nominations still open, April 2020
Women's Engineering Society Message:
Dear all
This is reminder that nominations are open for this year's WE50! Please make a nomination to enable us to celebrate the amazing work of women engineers. The Top 50 Women in Engineering (#WE50) awards this year seek to recognise women who have made an impact on sustainability. This is not just linked to the climate emergency (although this is hugely important), the awards are also related to nominees' impact on UNESCO's Sustainable Development Goals. These 17 goals relate to health and wellbeing, education, gender equality, relieving poverty, responsible consumption and production, and more – click on the link for more information.
If you, or someone you know, is involved in sustainable strategies and solutions, then we're asking you to nominate them for the Top 50 Women in Sustainability (#WE50) as we celebrate the women who #ShapetheWorld. Self nominations are very welcome. The closing date is noon on Tuesday14 April. More information about the WE50 awards can can be found here.
Regards
Cath
Cath Heslop
Sisterhood exhibition in Cheltenham March to June 2020
At the Wilson Museum.
'On Tuesday 10th of March we have the briefing of Sisterhood, an exhibition from artist Danielle Salloum. Salloum is passionate about raising awareness about modern controversial issues. Using artistic interpretation and portraiture Salloum highlights the stories she feels strongly about. Sisterhood, held in partnership with The Wilson and Cheltenham Borough Homes, highlights the stories of women from Trinidad and Tobago and the Cheltenham borough. Locations Salloum has strong links to.
The FREE exhibition will be open until 12 June 2020.
Voluntary Post of Chair, Bristol Commission for Race Equality
Dear Colleagues,
An exciting opportunity has become available in Bristol. The Commission on Race Equality (CoRE) is seeking a new Chair. This is a voluntary position. This will require somebody who is passionate about race equality, Human Rights and changing the current landscape for communities who are not able to contribute to Bristol's growth and success. The post holder along with Commissioners will develop a solutions focused strategy that will support the City with its ambition to be inclusive.
The recruitment window will close on Thursday 26th March 2020 at midnight. Interviews will take place on Wednesday 8th April, City Hall.
Job Spec and advert available on request.
We will use expression of interest to compile a shortlist. The expression of interest will be no longer than x2 sides of A4 and should be sent to Cherene.This email address is being protected from spambots. You need JavaScript enabled to view it.
For further information on the role please contact David Weaver, Independent Consultant (This email address is being protected from spambots. You need JavaScript enabled to view it. or 07983 592988).
Bristol City Carers Strategy Consultation
Are you a Carer?
Do you look after someone who needs your help?
Bristol City Council would like your views on the type of support you need to inform a new Carers
Strategy
Complete the survey at:
bristol.gov.uk/carers-survey
by 19 January 2020 (date for comments has been extended) For a paper copy or alternative formats
email:
This email address is being protected from spambots. You need JavaScript enabled to view it.
or call on 07880 179 218
* The accepted definition of a carer is anyone who provides unpaid care for a friend or family
member who due to illness, disability, a mental health issue or an addiction cannot cope without
their support.
The Carers Trust