Event: Protecting Feminist Journals
From: Rutvica Andrijasevic <This email address is being protected from spambots. You need JavaScript enabled to view it.>
Sent: 12 December 2019 08:47
Subject: [spais-grc] Feminist journals meeting - London 15 Jan
I am on the editorial collective of Feminist Review and we are planning a London-based meeting with other feminist journals to discuss how to build alliances and responses to the steady marginalisation and pressures (financial, gold open access etc) on feminist journals by the publishers. Meeting is scheduled to take place at SOAS on 15 Jan. This is to alert you about the meeting and check whether you (or anyone else you know) is on the editorial board of a feminist journals in case you want to join the meeting. Email me for more info.
This email address is being protected from spambots. You need JavaScript enabled to view it.
Thanks,
Rutvica
Dr Rutvica Andrijasevic
Reclaim the night in GLOUSTERSHIRE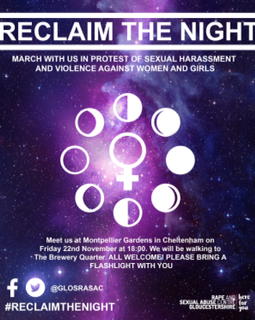 Help to shape the future of WAND! September 2019
Discussion workshop & cream tea
30 September 2019 6.30 - 8.00pm
Borough Gardens House, Dorchester
WAND has been active since 2010, promoting women's rights and wellbeing through raising money for women's services and providing opportunities for women in Dorset to socialise and share their skills. Our activities include the highly successful events Reclaim the Night and Dorset Women's Day.
As we approach our 10th anniversary, WAND is keen to review our outlook and activities to ensure they still reflect and cater for the needs of our supporters and the girls and women of Dorset – and we'd like you to get involved!
Women's Poverty report launch, 18th July
Women's Budget Group have a new confirmed date for the launch of their women's poverty report:
Wednesday 18 July, 6.30 – 8pm at the House of Lords
Please let me know if you would like to attend and feel free to inform your contact networks about the event and the new date. We will circulate the new updated invite soon.
I look forward to seeing you there!
Best wishes,
Sara
Sara Reis
Research and Policy Officer
UK Women's Budget Group
07754329455
Universal Credit and Financial Abuse: exploring the links
Wednesday 20 June
3.00 – 4.30 pm
Committee Room 15, House of Commons
The Women's Budget Group (WBG), End Violence Against Women Coalition (EVAW) and Surviving Economic Abuse (SEA) invite you to the launch of our new report
To book a place please email This email address is being protected from spambots. You need JavaScript enabled to view it.. This email address is being protected from spambots. You need JavaScript enabled to view it.
Women in the workplace - the gender pay gap, organisational cultures and representation in leadership
Timing: Morning, Wednesday, 9th May 2018
Venue: Central London
Westminster Employment Forum Keynote Seminar
with
Denise Wilson, Chief Executive, Hampton-Alexander Review
Sue Coe, Head of Employment, Equalities and Human Rights Commission
Elysia McCaffrey, Deputy Director for Gender Pay Gap, Government Equalities Office
and
Charlotte Avery, St Mary's School, Cambridgeshire and Girls' Schools Association;Hannah Bradshaw, Covington & Burling;Dr Carole Easton, Young Women's Trust;Bola Fatimilehin, Royal Academy of Engineering;Mark Freed, E2W;Deborah Gilshan, Aberdeen Standard Investments and The 30% Club;Kate Grussing, Sapphire Partners;Samantha Rennie, Rosa;Pauline de Souza, Diversity Art Forum andCharles Wynn-Evans, Dechert
Chaired by:
Dawn Butler MP, Shadow Secretary of State for Women and Equalities and Gillian Keegan MP, Co-Chair, All-Party Parliamentary Group for Women at Work
Follow us @WEmFEvents| This event is CPD certified
Dorset Women's Day 10 March: 10am-3.30pm Dorford Centre, Dorchester
WAND warmly invites you to celebrate Dorset Women's Week 3-10 March 2018
WAND is excited to bring you the programme for Dorset Women's Week 2018. We are bringing together a variety of activities, hosted by different organisations to celebrate women during the week of 3-10 March in celebration of International Women's Day (held each year on 8 March). Thank you to everyone hosting and activity during the week. Please click on the programme below for details of all the activities and book directly with the organisers.
Feminist Archive Events 2018
The dates for the first three events are 31 Jan, 28 Feb and 21 March at 2-5pm at Special Collections, UoB Arts and Social Sciences Library (wheelchair accessible). If you are interested in attending or have any questions please get in touch by emailing This email address is being protected from spambots. You need JavaScript enabled to view it.. Numbers are limited therefore registration is essential.
The Feminist Archive South is planning to kick start a year of projects to celebrate its 40th anniversary with an invitation to explore some of the most radical and striking posters held by the University of Bristol's Special Collections. The event, which will take place on 31st January from 2-5pm, will be the first of a series of monthly collaborative workshops seeking to engage new audiences with the archive.
WAND Event 25th November
Reclaim the Night 2017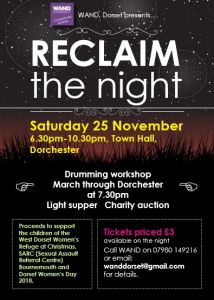 You are cordially invited to join us at this year's Reclaim the Night event on Saturday 25 November, from 6.30-10.30 (please note it's an earlier start than last year), at the Town Hall in Dorchester.

Enjoy a fabulous event with a serious message. We'll have a drumming workshop, a march through town (drumming), a delicious supper and a fun charity auction raising money for the West Dorset Women's Refuge and The Shores (Sexual Abuse Referral Centre) in Bournemouth.

If you would like to donate a prize for the charity auction please contact This email address is being protected from spambots. You need JavaScript enabled to view it. or call 07956 896114 (please use this number instead of the one previously advertised).
Women's Question Time (Hustings) for Metro Mayor
24th April - Unitarian Chapel - Doors open 7pm
In May 2017 the West of England will elect its first metro mayor. The directly-elected metro mayor will be responsible for setting out a strategy for growing the city region economy, and will have certain powers over issues such as housing, transport and skills.
The West of England covers the following local authorities: Bristol, Bath & North East Somerset and South Gloucestershire.
Bristol Domestic Violence Event 1st April 2017
SARSAS invite you to join us in attending the incredible performance of Foreign Body on Saturday 1st of April at 7.30pm at Hamilton House, with tickets starting from just £7.50.
Hear the voice of a survivor in this unique show on Sexual Violence.
We hope to see you there, please see the flyers below for more details on the show and how to book.
Warm regards,
The SARSAS Team

Foreign Body Flier 107.98 KB
North Somerset BME Network invitation
Women's Information and Celebration Day
Wednesday 29 March 2017
12noon-4pm
At Victoria Methodist Church
Station Road, Weston-super-Mare, Somerset, BS23 1XU