WAND warmly invites you to celebrate Dorset Women's Week 3-10 March 2018
WAND is excited to bring you the programme for Dorset Women's Week 2018. We are bringing together a variety of activities, hosted by different organisations to celebrate women during the week of 3-10 March in celebration of International Women's Day (held each year on 8 March). Thank you to everyone hosting and activity during the week. Please click on the programme below for details of all the activities and book directly with the organisers.
Dorset Women's Day
10 March: 10am-3.30pm
Dorford Centre, Dorchester
We have an fabulous programme of activities on Dorset Women's Day with a wide range of workshops, stalls, information stands and performances, as well as fabulous cakes and sandwiches.
Check out the programme below for details of the workshops and performances.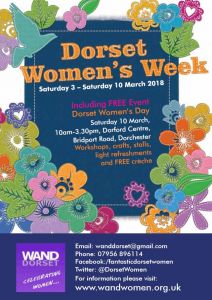 If you have any queries please email This email address is being protected from spambots. You need JavaScript enabled to view it. or call 07956 896114.
We hope you will join us!